St. Martins' Day: Goose Dinner
The origins of the traditional "Martinigansl" (Martin's Goose Meal in German) are not completely clear. The Martin's Day marks the 11th of November every year and in Austria it is a tradition to eat goose. There are many legends of why a goose is eaten around this time of the year. One tells the story of Martin who should have been consecrated as Bishop in Tours, France and hid in the goose stable. But the goose were so loud that they found him and he could have been consecrated.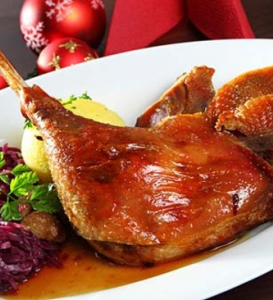 A traditional Martin's Goose Dinner in Austria is made up of nice goose from the oven with stuffing (sometimes containing an apple), gravy, red cabbage and potato dumplings. Since the meal is very heavy, restaurant very often serve schnaps after the meal. There are many restaurants in Vienna that serve traditional Martin's Goose meals but the best are not only hard to find but also need reservation. Get Locally takes its Visitors to the Viennese restaurants that serve the best Martin's Goose. Book your Tour here or contact us for further information at inquire@getlocally.net to arrange your perfect dinner.