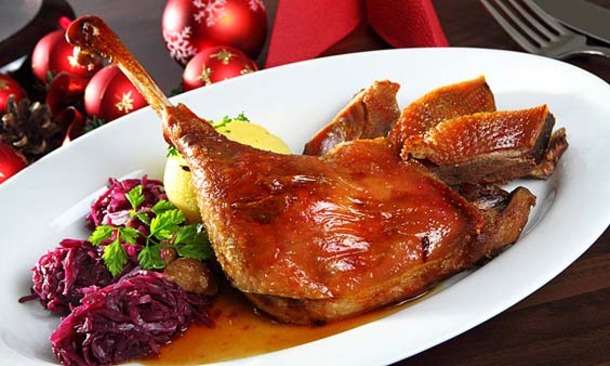 Experience a traditional Viennese St. Martin's Goose Dinner
We at Get Locally want to help you find the restaurant that serves the most wonderful St. Martin's Goose Dinners. With that we want to help our guests find out more about Viennese seasonal traditions. The day of St. Martin himself is on 11 November and is traditionally called Martini in Vienna. That is why the traditional name of the St. Martin's goose meal is Martini Gansl (Martini goose). On this day children walk around the streets of Vienna with little lanterns and candles inside and sing songs to celebrate the day of Saint Martin. It is also the day of the start of the carnival season. It starts exactly on 11 November at 11:11 a.m.
The season for this dinner usually starts with the beginning of November and ends with the start of the Christmas season around the beginning of December. Every year Viennese love this tradition of eating Martini goose and try to find the one restaurant that serves them the best. Lots of restaurants offer this kind of goose meal but the Viennese are very critical when it comes to which one qualifies to be the best one. What makes a St. Martin's Goose dinner perfect is that it has to start with a thick goose soup continues with the main course of a very often large portion of goose where the skin is deliciously golden roasted and crispy. With the goose comes potato dumplings and red cabbage, a typical Austrian side dish. Since this whole meal is rather heavy locals usually enjoy a digestif after the dinner. This digestif might be fruit schnaps from apricots, pears or any other fruit.
Being Viennese locals ourselves we would like to take you on our special St. Martin's Goose Dinner tour where you can enjoy all the delights of this tradition. We want to show you where we as Viennese find the goose dinner that we consider the best. We want to treat you with something special and hope you experience a wonderful time and take home some special memories.
So the St. Martin's Goose Dinner by Get Locally includes:
Private Tour Guide accompanying you during your whole tour
Limousine (Mercedes E class or equivalent; Mercedes Viano van or equivalent in case of more than 2 persons) with driver for up to 3 transfers during your tour
Hotel pick-up and transport back to the hotel with limousine
3-course Traditional St. Martin's Dinner at a Restaurant**** with one beverage plus one digestif after the dinner
Go on this exciting tour by booking your Gourmet Dinner Tour here or ask for your tailor-made by sending an email to inquire@getlocally.net